Personal Salvation Testimony of Edward Rice

I was saved in 1960 at the age of eight. Two years earlier my father and Roman Catholic mother became born again Christians when Cecil Palm hunted out some founding members of Fellowship Baptist Church in Gang Mills New York. Every thing in our home changed for the better that year and I was taken to every church service there was. Just the same I knew that others in my family had something that I did not have: I was aware of my sin. At a revival service with Evangelist Dale and Opel Linbaugh, during a story about Little Pilgrim at Calvary, I asked Jesus to forgive my sins and take away my burden of sin as well. He did. When the flannel graph image of Little Pilgrim's sin-burden hit the floor that day, so did mine. From the moment I put my trust in Christ I knew every thing was different. I was saved from the penalty of my sin. I had to wait until spring when the ice was out of Fords Pond before being baptized. I'll never forget the wait; I was eager to obey my new Lord. Being saved at eight, I have spent my life in Baptist Churches. Upon marriage to Beverly in 1971 we have each served as teachers and youth workers in every Church my 23 year Air Force Career has brought us to. God called me to preach in 1992. I publicly surrendered to preach on 3 July 1992, at Hoosier Hills Baptist Camp, Versailles, Ind under Evangelist Clarence Doyle. Since that calling I have been ordained in 1998 in the Pastorate at Good Samaritan Baptist Church in Dresden NY, where I am currently pastoring as I pursue my seminary degree by correspondence. Gone, Gone, Gone, Gone, Yes my sins are GONE. they are all forgiven and in my hearts a song. Buried in the deepest sea, yes that's good enough for me. I shall live eternally, praise God my Sins are G O N E, Gone
---
Beverly Rice

When I was growing up my parents always sent the kids to church. It was not a church that taught much Bible. So at age twelve when someone said that I should get saved, I said ok. I went to all the classes, knew all the answers, and was baptized that year. I didn't know that I wasn't saved. At age sixteen we moved and I started going to Tuscororra Baptist Church. Here I learned that I needed to repent of my sins and ask forgiveness. I learned that I had a head knowledge but no heart knowledge. At age eighteen I finally asked Jesus into my heart and boy did I know the difference. When I was 22 God convicted me that I had not been baptized since my actual decision. I was baptized in Harts Hill Baptist Church, Whitesboro, New York. I have been serving my Lord and Savior every since.
---
RESUME updated 4/20/02
Edward Gorden Rice

1. Objective: I am called to preach the gospel of my Lord Jesus Christ. As we continue my Seminary training for that calling, God has moved on our heart to pastor at Good Samaritan Baptist Church. I have, Pastored, served in charge of Bus Ministries, Junior Churches, and as an Associate & Youth Pastor. I am currently working on a Master of Divinity degree via extension courses from Calvary Baptist Theological Seminary. It is our hearts desire, by God's power, to minister, to serve, and to pastor, on a full time basis for 30 years here at Good Samartian Baptist Church, in Dresden NY.
2. EDUCATION:
Aug93-Pres 19 Hrs Completed at Calvary Baptist Theological Seminary, Master of Divinity Degree (Corres) 1380 Valley Forge Rd Lansdale, Pa 19446
Mar 92 Masters Degree, Engineering, AFIT, WPAFB Oh.
Mar 82 Bachelor of Science, Engineering, Ohio State Univ.
Sep-Dec71 No Degree, Practical Bible Training School, Binghamton N.Y.
Jun 71 High School, Corning Painted Post West High, Corning N.Y.
3. CREDENTIALS:
Ordination Ordained as a Baptist Preacher on 8 March 1998, at Good Samaritan Baptist Church, Dresden NY, through Friendship Baptist Church, Rome NY
License: Licensed To Preach, 19 Mar 95 by Friendship Baptist Church, Rome NY
Surrender: Public Surrender to Preach on 3 July 1992, Hoosier Hills Baptist Camp, Versailles,Ind
(Ref Evang Clarence Doyle, 812-689-5157)
4. MINISTRIES:
2/98-Present Pastor, Good Samaritan Baptist Church, Dresden NY
9/97-2/98 Associate Pastor, Good Samaritan Baptist Church, Dresden NY
2/95- 6/97 Pastor, New Hope Bible Church, Dundee NY**
10/93- 2/95 Deacon & Teen Pastor, at Friendship Baptist Church, Rome N.Y., Under Pastor Pat Hand;
1/92- 9/93 Associate Pastor Director of Teen Dept, Song Director, at Jewell Baptist Chapel, Cleveland N.Y.,
Under Pastor Arthur Burdick.
9/89-12/91 Extensive Youth Work, Trustee, Instructor Adult Bible Doctrine Class and New Convert Class,
at Independent Baptist Church, Rome NY.
6/85-8/89 Director of the Junior Church Program, Bus Ministry, Director of Eager Beaver Training time, Trustee,
& Teen Director, at Huber Heights Baptist Temple, Huber Heights Ohio.
5. PERSONAL: Born 30 June 1952 in Corning New York, Age 45
Born Again Sep 1960, under Evang Dale & Opel Linbaugh, Fellowship Baptist Church, Gang Mills New York.
Married to Beverly E. Rice (born 23 Oct 1950), Married 6 Nov 1971.
(Bev Born Again June 1969, Tuscarora Bapt Church, Addison N.Y.)
Children: Sons, Matthew L. (17) 97 Graduate Emmanual Baptist Academy, Pen Yan NY, Married 1 Child.
Shane D. (21) 97 Graduate Massillon Baptist College, Oh. Married, 4 Children, Missionary to Peru.
Michael S. (24), Married, 2 Children, US Army, Ft Hood TX
Health: Excellent Health, 195 lbs, avid jogger.

6. Doctrinal Position: I dogmatically hold to Fundamental Doctrines of the verbal, plenary, inerrant inspiration of the Scriptures; the Triune Godhead; Salvation; the Local Church and the eminent return of Jesus Christ prior to a 7 year tribulation and a literal millennial reign. I believe in a literal Hell to be shuned and a literal Heaven to be gained. I believe that the Textus Receptus is compiled of the most accurate manuscripts available to date and I reject the Wescott and Hort family of manuscripts as being corrupt. I, therefore, use only the King James Version of the Bible in a Church, gauging all the other 207+ English translations, which promote the omission of 1 John 5:7, as heretical. I am an Independent, Fundamental, Premillennial, Separated, Sin-Hating, Bible-Thumping, Evangelical, Soul-Winning, Baptist-by-Conviction Preacher.
---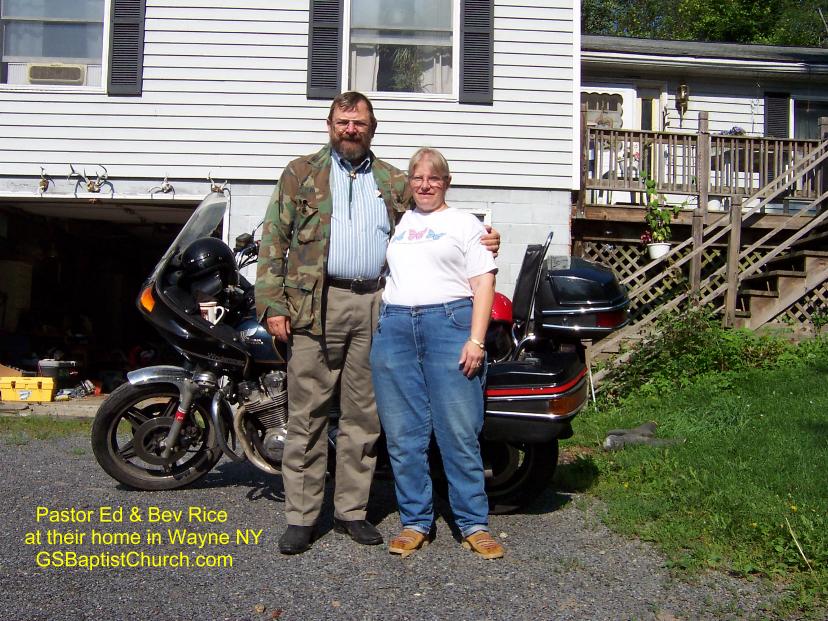 Click To Contact Us:.....Electronic mail address:
edrice4%linkny.com