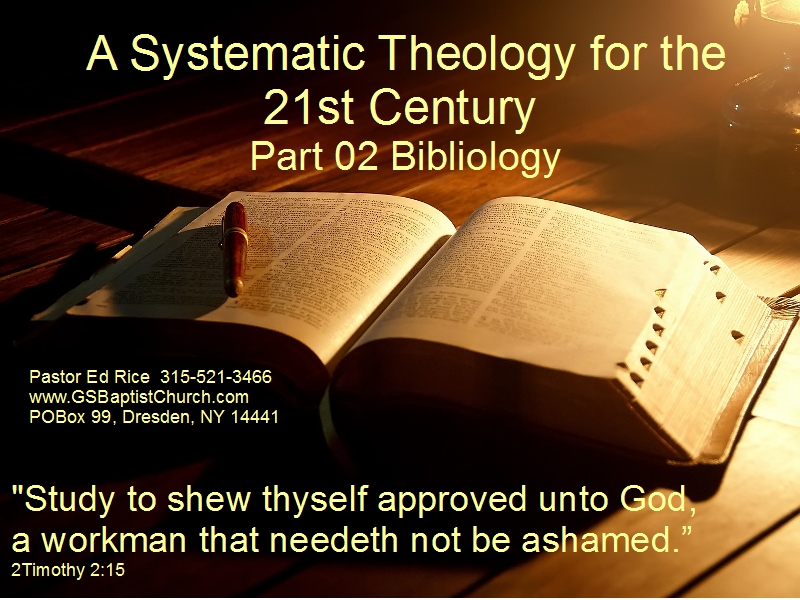 Theopneustia available in its original pdf formtt www.GSBaptistChurch.com/theology/21cent_vol02theopneustia.pdf
Register to host an online Bibliology meeting (and invite Pastor Rice) Online Meeting Rooms at https://www.lytespark.com/
or use Cisco webex at https://www.webex.com/ Or ask Pastor Rice to include you in a webex conference.
Download texts by section at www.GSBaptistChurch.com/theology/index.html

Man that is in honour, and understandeth not, is like the beasts that perish. Psalm 49:20
"If you recently graduated with honors – Congratulations!

If you were recently voted most valuable player on your basketball team –

That's great!

If you were recently awarded a big salary increase –

Good for you! But none of these things is worth getting too excited about. No, there is one thing, only one, that should get a man or a woman really excited."
Thus saith the LORD, Let not the wise man glory in his wisdom, neither let the mighty man glory in his might, let not the rich man glory in his riches: But let him that glorieth glory in this, that he understandeth and knoweth me, that I am the LORD which exercise lovingkindness, judgment, and righteousness, in the earth: for in these things I delight, saith the LORD. Jeremiah 9:23-24
The thing that impresses God the most about any given individual is how much that individual is impressed with God. Indeed, it is a tragedy of enormous extent "that he should be so little in our thoughts who sparkles in everything which presents itself to our eyes." But, oh, how our Dear Lord loves to honor and bless that individual that delights himself in the Lord and is altogether taken up with his God!
Then shalt thou delight thyself in the LORD; and I will cause thee to ride upon the high places of the earth, and feed thee with the heritage of Jacob thy father: for the mouth of the LORD hath spoken it. Isaiah 58:14
That one needs to study God is instinctive in our nature. That one should do it systematically is required by the immensity of the subject.

Work Zone- Systematic Theology for the 21st Century
Construction In Progress
Volume 1 now available in paperback http://www.lulu.com/spotlight/GSBaptistChurch