Welcome to the Biblical Hebrew (Self-Taught) Study Group

For those who want to learn Biblical Hebrew for the sake of knowledge without college tuition.
The material follows the recommended textbook "Basics of Biblical Hebrew" by Gary D. Pratico and Miles V. Van Pelt

I am Pastor Ed Rice, this is a Beta Study Group. For the improvement of this process, your input is solicited. Pastor-Rice@GSBaptistChurch.com

IMPORTANT RESCOURCE www.gsbaptistchurch.com/hebrew_study_group/hebrew_journal.pdf

Much can be said about why one should learn Biblical Hebrew and I expect that you will say it in the next few weeks. I will then incorporate your input into this paragraph. I have found its study awesome and enlightening. God wants us to know Hebrew. Exodus 16:15 states "And when the children of Israel saw it, they said one to another, It is manna: for they wist not what it was. And Moses said unto them, This is the bread which the LORD hath given you to eat." In this verse we learn the Hebrew word "manna" and its definition "What is it?" You will be amazed how much Hebrew you already know, and amazed how challenging it is to master a Hebrew Alphbet. But it is worth the effort.

Below please find a group of links that provide the material for the 2nd two weeks of our effort. We must first learn the Hebrew Alphbet and this is our initial focus. The best way I found to memorize the Alphbet then do this is just like the first grader does it; get out your Hebrew Bible open it (from the back, remember) to Psalms and begin reading Psalm 1:1. You will need to do this one letter at a time, looking up the sound of letters you do not recognize, and struggling to pronounce each word like a first grader does. Here we go.

IMPORTANT RESOURCE http://eteacherbiblical.com/free-lessons (NO LONGER FREE!).

Two things are almost essential for your participation in this self-study-group. First is a Hebrew Bible. I do not know what cautions to put forth here, but expect to before we finish the year. I have and recommend "Biblia Hebraica Stuttgarrensia", second edition, amended 1977, copy right 1991 from The Bible Society in Israel. You may find an online version which uses all the vowel points but I have not, and tire from reading a computer screen." Secondly, we will be following Gary D. Pratico and Miles V. Van Pelt's "Basics of Biblical Hebrew", surely available via amazon.com at some exorbitant price, and worth every penny. There is a CD in that book that has the chapter reviews that I will be sending out. Your ownership of them and the copyright violation barometer level will depend on your buying the book. That CD also contains an excellent computer flashcard vocabulary software program called Teknia that is very effective. Buying these two items is optional but worth the investment for the serious student.

My three fold plan for this study group is to 1) make all lesson material available online, 2) find some means of weekly encouraging communication and feedback via email, chat, emeeting, or blog, (I can start via email, see #3 below) 3) enlist participants help to make this beta-study-group efficient and effective. So let's do it.

IMPORTANT RESOURCE Thurs 8pm EST webinar https://eteacher.webex.com/ (NO LONGER AVAILABLE!).

Learning to Read Biblical Hebrew,

Ed's Journal

by Pastor Edward Rice

Copyright © 2013 by Pastor Edward Rice English Scripture quotations are taken from the Authorized King James Bible.
Commercial Rights Reserved. For non-commercial purposes any portion of this book may be reproduced, stored in a retrieval system, or transmitted in any form or by any means electronic, mechanical, photocopy, recording, or otherwise in the service of our Creator, Lord and Saviour, Jesus Christ the Righteous. This constitutes the written permission of the author.


Compiled and Edited by Pastor Edward Rice
Edited by Beverly E. Rice
Cover design by Author
Layout by Author
Published by E.G.RicePublishing
via GSBaptistChurch.com
PO Box 99, Dresden, NY 14441
ISBN (Pending)
Printed in the United States of America
Dedication


My journey into Biblical Hebrew is journaled here with the expectation that my children and my children's children will soon walk this path. Only loving the Lord their God with all their heart, with all their soul, and with all their mind would take them down such a path. I have no greater joy than to know that my children walk in truth.

IMPORTANT RESOURCE Hebrew Newletter (NO LONGER AVAILABLE!). http://news.eteacherbiblical.com/

Acknowledgments

In my teen years at Tuscorora Baptist Church outside Addison NY, it was pointed out to me that Psalm 119 was an acrostic with groupings of 8 verses all starting with the 23 letters of the Hebrew Alphbet and that the Hebrew Alphbet has no vowels only consonants, or if you would 'n vwls nly cnsnnts.' Skeptic of both declarations I determined then that I would someday learn Biblical Hebrew. Seminary training and learning priorities required a year of Greek first. Therein I understood the challenge of learning Biblical languages but I also tasted the joy. Professor Rodney Decker, of Bible Baptist Seminary in Clark Summit Pennsylvania wrote in my Trinitarian Bible Society Greek New Testament (I refused to use their Nestles Version) "Remember Luther's comment that the biblical languages, Greek and Hebrew, are the sheath in which the sword of the Spirit rests." After my Masters of Theological studies and before my Doctorate of Philosophy in the same commenced, at age 60 and well after lost skepticism, I determined via self study to pursue that teenage goal.


Forward (unsubmitted as yet)


Preface (unsubmitted as yet)


Learning to Read Biblical Hebrew

Ed's Journal

by Pastor Edward Rice
Chapter 1 Introduction
Romans 3:1-2 What advantage then hath the Jew? or what profit is there of circumcision? Much every way: chiefly, because that unto them were committed the oracles of God.
Learning Hebrew language enough to read a Hebrew Bible will be a challenge. A challenge for challenge sake is great for 6 year olds. For the more mature there needs to be a greater purpose in taking on such challenge. Since your reading this one needs to word why one would, but first consider the challenge as it lies ahead.
Hebrew is intriguing in that it is made up of letters which are very foreign to English, and that these 23 foreign letters are all consonants. Additional consternation is encountered by some when they consider that in Hebrew letters are often given duo syllable names "Aelp – Bet – Gimel" and "Ayin- Pe – Tsade, while in English our letters are straight forward one syllable names "A-B-C" and "Q-R-S". The first challenge then is to learn these letters, learn their names, and learn their sounds. This is not a new challenge. We faced it previous. It was in first grade when the letters were "A-B-C". Memorize these letters just like you did back then, it will take your mind to a new but familiar vista.
The letters are best learned via this flash card:
Take yourself back to first grade, read them write them, memorize them and learn them. Why are there 24? When there are supposed to be 23? Oh the intrigue of learning.
Another flash card that is just as functional is given here.
Here it is useful to consider that Hebrew reads from right to left, not in our normal English flow. Notice that here?

You are, again, challenged to do some rote memorization without understanding all the details. Do not repeat the childish question "Why do I have to learn this?" That is childish! The more mature question is Why am I learning to read Hebrew?

When a teenager I was told that Psalm 119 was a Hebrew acrostic with groups of 8 verses all starting with the 23 letters of the Hebrew alphbet. My Oxford press Scofield Bible even went to the great care of printing the Hebrew letters before each octet. I was intrigued enough then to know that someday I would learn all those queer shapes with strange names and check this hypothesis out with an actual Hebrew Bible. I first learned the Hebrew alphbet by reading my King James Bible, and pausing twice a year in Psalm 119.

Since inception the study of Biblical languages was constitute as a fundamental and significant part of the training of the human intellect. The prideful arrogance of the post-modernist student who thinks English is the perfected end-all of every language might need be addressed here, but only briefly. One Dr. Peter Ruckman and his followers have championed a misguided cause that the English is far superior to the original languages, making anyone who knows, uses or learns the originals an inferior turncoat and hypocrites who threatens their KJV only stance. It is unfortunate that so many independents with a mysterious draw to isolationism echo his refrain It needs to be clearly stated that study of the Greek and Hebrew cannot greatly improve or enhance what we have recorded in the King James English, but we must not shy away with from their insults and threats to make such study insignificant.

In 1999 my Greek professor Rodney Decker wrote inside my Greek TR, "The Biblical Languages, Greek and Hebrew are the sheath in which the sword of the Spirit rests." Mere modernist humans will never improve on the King James English Bible translation or Bible language. It should never come from a preachers mouth "A better translation is ..." The team of translators assembled by King James will never be equaled, and when some scholar who got a B+ in 2 years of Greek tries to change English words of the King James Bible just back away from them slowly. So I must clarify that we do not learn Hebrew so that we can improve the King James English, however our learning of Greek and Hebrew can most certainly improve our King James English even as it increases our faith in the King James translators.

Three reasons I have considered for learning to read my Hebrew Bible are 1) I love the Lord my God and he first spoke to humanity in Hebrew. 2) I love the revelation of the Lord my God and 39 books of His written revelation were recorded in Hebrew, and 3) I love to learn new things believing that when you stop learning your brain starts aging and God commands us to Study to shew yourself approved unto a God a workman that needeth not be ashamed, rightly dividing the word of truth. Given those three, just for starter reasons one should walk into this learning experience with anticipation that more concrete reasons will soon develop.

On that note, learn your Hebrew alphbet. Use the resources listed below to be a help for that learning process.
Helpful resources at GSBaptistChurch.com/hebrew_study_group/

alpha_slow.mp3, alpha_fast.mp3, 3x5hbrw00.jpg, 3x5hbrw01.jpg, hbrw_gen1_1.wmv, hbrw_jonah2_1.wmv, psalm1n2.jpg, alphbet.png

With this most helpful link http://eteacherbiblical.com/free-lessons (NO LONGER FREE!).
Chapter 4 Biblical Hebrew's Plural Nouns
Go to, let us go down, and there confound their language, that they may not understand one another's speech. Gen 11:7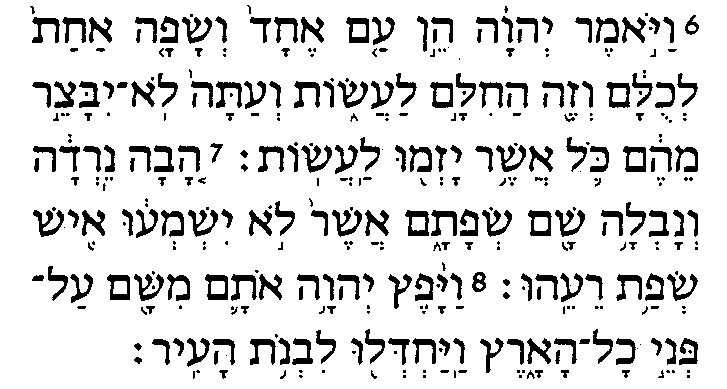 If you can say four ducks but not eight gooses, three places but not six persons, a bunch of humans but not several manses or womans, then you cannot say that Hebrew nouns are "very difficult." The hardest of all languages to learn is the English language because it has more exceptions than rules. The fun in this effort will be recognizing and learning relatively few exceptions for Hebrew nouns.
To the Biblical Hebrew Study Group; 3/25/2013
Greetings in the name of the Lord Jesus Christs.
Here we go into our second week on Hebrew Nouns and I sure need an additional week. I am not sure I got that simple lesson on syllabification down yet, let alone figuring out when a Shewa is supposed to be silent! You might find it hard to believe but sometimes studying Hebrew gets crowded out of life. That is when I have to reinsert it in the whee hours of the morning. Sun is just rising here in Upstate NY and my pencil is sharpened.
I made some tremendous improvements to the web page. It will include my Hebrew Journal and all lessons on one page, check it out at www.GSBaptistChurch.com/hebrew_study_group Bad links are a common problem in web page construction; if you find any please ping me.
I sat down on Saturday the Sabbath day, and took all 10 of the eTeacher's free Hebrew Lessons in one setting, took about an hour (NO LONGER FREE!).. What an awesome resource. Try it.
Jesus gave his commission to us five times in Scripture. Always striving to keep the main thing the main thing I rehearse them regularly. Remembering what it required to learn to read the English language for the first time, in my journal I am writing each of those commissions out by hand in English, Hebrew and Greek. When you buy the Biblia Hebraica Stuttgartensia, you find it contains both the Old and New Testament. I found long ago that you learn much in writing, little in typing, and less or nothing in cutting and pasting. Try it, … the writing I mean.
You will hear from me again on April Fools Day, after our Friday trip to Sights and Sounds Theater to see "Noah", after the Easter celebration of our Resurrected Lord, after my MIL returns from wintering in Alabama, I will be excited to tear into Chapter 5s Conjunctive Waw. You?
Pastor Ed Rice
There are six points of summary for nouns. In digest they are repeated here:
Unlike anything you find in English, Hebrew nouns have gender and more than one type of plural. Like Greek, Spanish and other languages, Hebrew nouns may be masculine or feminine, rarely both. This has nothing to do with manhood and such, and everything to do with comprehension and inter-connections. Hebrew nouns, like no other, may be singular, plural, or dual.

Masculine singular nouns have no special endings, but plural (2 or more) nouns end with ~yi and the dual (2 only, no more) nouns end with ~iy; .

Feminine singular nouns generally end with h.; , or perhaps with t: `t, `tyi `tW , feminine plural (2 or more) nouns change that ending to tA , and the dual (2 only, no more) end with ~iy; ` ~iy;t .

Much like English there are exceptions to every rule.

Hebrew vowels follow set patterns and plural endings change these patterns.

A Hebrew lexicon (dictionary) lists alphbetically only the singular form called the lexical form. You will not find the endings attached. (nor should you look up a noun's article prefix He for 'the' nor a noun's conjunctive Waw prefix for 'and' , but that is next chapter.)
If you still didn't get that BST font to work check the next page. If you did you may skip the next page, its a replica.
This Intro site is found at www.gsbaptistchurch.com\hebrew_study_group\index.html
If you are not signed up for distribution of this material contact me at PastorRice@GSBaptistChurch.com Subject line Hebrew Study Group
As we grow please recommend this study group to others.
May God Bless your Efforts for Him.

Pastor Ed Rice